You have arrived here from the very talented Virginia Lu's Blog. Your next stop will be Anna Komenda

!

The complete blog hop list is at the very end of this post.

If you would like to take part in the hop from the beginning you can start at the Altenew Blog here.
PRIZES
Altenew is giving away a $40 gift certificate to six lucky winners! Please leave a comment on the Altenew Card Blog and/or the Altenew Scrapbook Blog by March 28th for a chance to win. A winner will also be drawn to receive a $20 gift certificate from the comments left on each designer's blog on the blog hop list below. All winners will be announced on the Altenew blogs – Card blog and Scrapbook blog – on March 31st 2019.
I am apologising in advance as this is going to be a very image heavy post as I went a "little" bit crazy with ideas on how to use these fabulous new Brush Markers by Altenew! I couldn't help myself, I kept trying ideas and the turned out to be so much fun I have 10 ways on how to use Altenew's New Tropical Fiesta Watercolor Brush Markers Set!
You can watch the video on how to recreate each of the looks here:
Here is a brief overview on how each card was made:
1. Colouring with Brush Markers:
You can use the markers to create some stunning watercoloured and blended effects, there are lots of videos out there in the blogosphere and Youtubeland where talented designers show how to create some stuning coloured images! It almost feels like cheating, as that is how easy they are to use :)
Using Altenew's Beautiful Heart Stamp Set
Using Altenew's Beautiful Lady Stamp Set
2. Creating Background Washes:
You can use these markers to create bold or subtle background washes to create simple but effective backgrounds for your projects. You can even diecut or stamp over these to create a variety of cards!
Using Altenew's

Hello Gorgeous Stamp Set
Using Altenew's Script Words 2 Die Set
3. Creating Galaxy Style Backgrounds:
Definetely one of my favourite ways to use these markers. Galaxy style backgrounds are still very trendy and as these markers are so easy to blend, you can easily create your own designs! I would suggest looking at images online for inspiration on how you want to lay down your colour. Also to be noted: no galaxy will be the same! You can flick water on to the dried surface and as they react with water, you will get these cool bleached/bokeh style effects!
Using Altenew's Brush Markers Desert Night, Purple Wine and Turquoise Brush Markers
The the finished card below, I have used diluted white acrylic paint to get my "star" splatters.
Using Altenew's Brush Markers, Label Love Stamp Set and Script Words Die
4. Stamping With Brush Markers:

This again is very easy to do, simply swipe on the ink on the stamp and press down on to your surface! You can even use your Misti Stamping tool to get more precise colouring and stamping.
Using Altenew's Trigonometry Stamp Set
5. Brush Lettering or Calligraphy:
I am no expert, but I love brush lettering an these markers are an absolute dream to do calligraphy with! The ink flows through the tips very freely and continuously so you can easily get a handle on how much pressure to apply when doing your lettering.
Using Altenew's Watercolor Brush Markers in Fresh Lemon and Crimson
Using Altenew's Watercolor Brush Markers in Turquoise
6. Creating Watercolour Flowers with Brush Markers:
I am really into abstract florals at the moment, and after watching some Youtube videos and looking at ton of inspiration on Pinterest I finally taught myself how to make abstract flower rosettes using these brush markers. After a little practice, you will not want to stop! I hope that you give this a try :)
Using Altenew's Watercolor Brush Markers in Turquoise, Purple Wine and Mega Greetings 2 Stamp Set
7. Creating texture using Bubble Wrap or Cling Wrap:
Much like watercolour, you can use bubble wrap or cling wrap to leave visual texture in your backgrounds. After applying your watercolour brush markers to wet watercolour paper, lay piece of damp bubble wrap over the wet surface and let it dry completely and you will get this cool design!
Using Altenew's Happy Dream Stamp Set
8. Spray Effects with Brush Markers:
You can use a Spritzer like the Ranger Distress Marker one to get a cool sprayed effect using these brush markers. The tips of these markers are quite sturdy and they did not get damaged after all my experimenting!
Using Altenew's Geo Frames Stamp Set
9. Watercolour Blocking:
Another quick technique which you have probably seen done with Distress Inks. Here I applied the markers to a acrylic block and slightly spritzed it with water and stamped with on to a piece of cardstock.
Using Altenew's Scrip Words Die Set
10. Splatter with Brush Markers:
Good ol' splattering. I think one thing is clear after seeing all these techniques,I sure do like making messes! Splattering is such an easy and quick way to create backgrounds to use in backgrounds or even for diecutting.I think this would make a lovely backdrop to a shaker card to, oh that gives me more ideas, haha!
Using Altenew's Hello Gorgeous Stamp Set
Using Altenew's Hello Gorgeous Stamp Set
Using Altenew's Hello Gorgeous Stamp Set
BONUS: Three more ways to use Altenew Brush Markers, check out Terri Koszler's Blog!
Thank you so much for stopping by and I hope you enjoyed the video!
Supplies: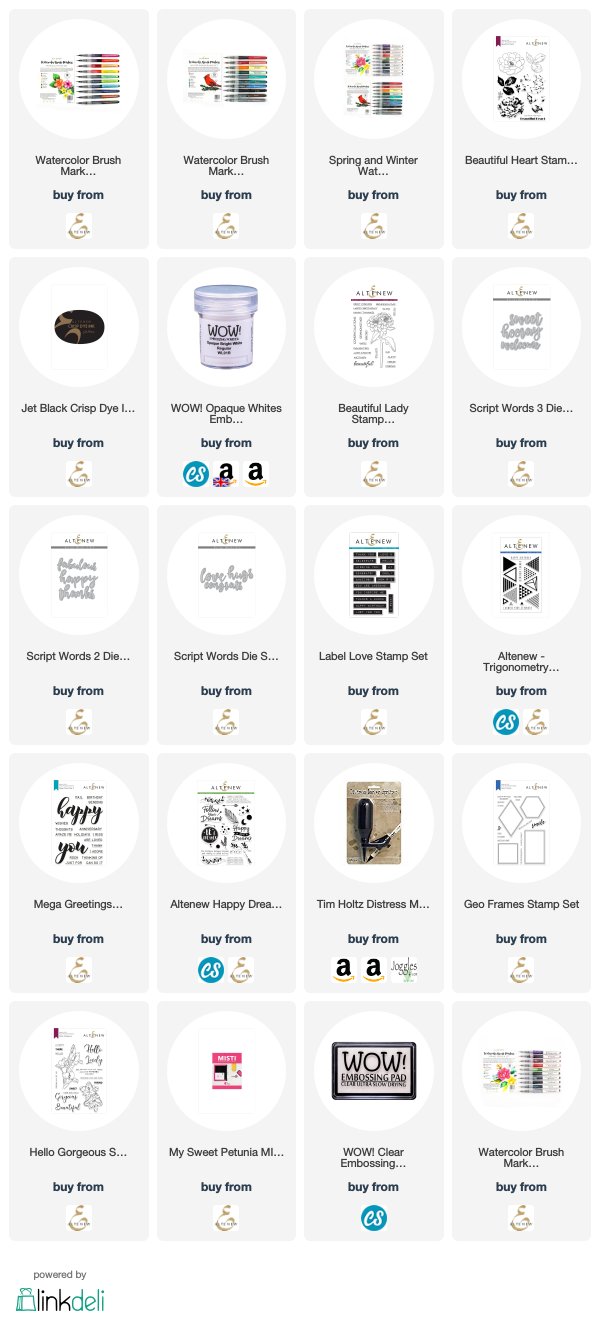 The Blog Hop List: